JURY
( Sorting by the first letter of the alphabet)
Photo credit : Kevin Davies
Allison Katz, born in Montreal, Canada, now lives and works in London. Her painting practice extends into ceramics, graphics and writing. Adopting an ambient approach, she embraces a multiplicity of forms drawn from her surroundings, personal experience and collective iconography. She frequently modifies her materials and techniques to create glossy, matte or texturally encrusted surfaces using sand or rice. Katz's imagery ranges from the mundane to the monumental, but there are certain recurrent motifs, including roosters, monkeys, noses in profile, bodily frames, and the lettering of her own name, which are often expanded or expressively distorted in her paintings. Conceptually abstract narratives underpin the figurative and legible components, with a view to question and reimagine the subjectivity of the painter. Puns and wordplay also abound in Katz's work, which draws upon the humorous slippages between word and image to create paradoxical, even absurd, confluences.
Katz has been the subject of solo institutional exhibitions at Oakville Galleries, Canada and MIT List Visual Arts Centre, Boston, USA (2018), and Kunstverein Freiburg in Germany (2015). Her work has been included in group exhibitions at the Leeds Art Gallery, Bonner Kunstverein, Powerlong Museum Shanghai, Museum of Modern Art Warsaw (all 2019), Tate St. Ives (2017), the Serpentine Galleries (2016) and South London Gallery (2014). Her first monograph will be published by JRP Editions at the beginning of 2020.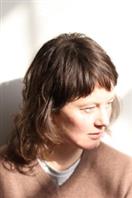 Photo credit : Alison Goldfrapp
Caragh Thuring lives and works in London. She received her BA in Fine Arts from Nottingham Trent University in 1995. After some years running a contemporary art gallery she returned to painting in 2003.
Thuring often builds her spatial and fragmented compositions on raw linen although recently she has engaged traditional weavers to create fabric with woven reproductions of her previous works and photographs, onto which she then paints.
Recent solo exhibitions include:
Builder, Corbett vs Dempsey, Chicago IL (2019);
Caragh Thuring, Thomas Dane Gallery, Naples, Italy (2019);
Caragh Thuring, Anthony Meier Fine Arts, San Francisco CA (2018)
Caragh Thuring, Chisenhale Gallery, London, England (2014/15)
Her work is included in the following public collections:
Tate Gallery, London, England
Arts Council Collection, England
Government Art Collection, England
Albright-Knox Art Gallery, Buffalo, NY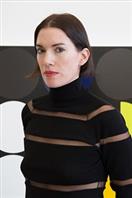 Photo credit : Anna Gaskell
Since the mid-1990s, Sarah Morris has been making abstract paintings, drawings and films to investigate what she describes as "urban, social and bureaucratic typologies". Employing an architecture of colourful and abstract forms, Morris's paintings play on the viewer's sense of visual recognition. She incorporates a wide range of references, from the graphic identity of multinational corporations and the structure of urban transport systems to the iconography of maps, GPS technology, as well as the movement of people within urban areas. Morris sees her paintings as being part of a larger self-generating system, always remaining open and allowing for interpretation, motion and change. Within her practice, each canvas and each film can be considered as part of an index, offering a set of coordinates which point to a vast and constantly evolving network of visual, social and political connections. Morris has said 'I start the films with coordinates and it is not dissimilar with the paintings. There is a certain set of points, a certain set of coordinates: the places, situations, and rooms I want to be in, and the people I want to meet. It is literally that specific. It's creating an open system and letting it run.'
Zhang Peili was born in Hangzhou, China in November 1957. He graduated from the Department of Oil Painting at Zhejiang Academy of Fine Arts (now China Academy ofArt) in 1984, where he is now a professor. He is also the executive director of OCAT Shanghai. Zhang currently lives and works in Hangzhou.
In 1985 and 1986, he organized and participated in the "'85 New Space" exhibition and artist collective "Pond Society" activities. His major works include Rest, X? series, 30x30, Water: Standard Version from Cihai Dictionary, Document on Hygiene No.3, Last Words, A Gust of Wind and Collision of Harmonies etc.. Among them, 30x30 (1988) was the earliest video artworks in China.
Zhang emphasizes the concern and invention for real life through art, and he also emphasizes the judgement of artistic language and self-criticism. Zhang is mainly engaged in works with the media in video, text, sound installation, mechanical installation and photography.
Zhang Peili has been engaged in art teaching for more than 30 years. In 2003, he established the New Media Department at China Academy of Art and began the earliest new media art education in Chinese art colleges.
He participated in Venice Biennale three times, and also participated in La Biennale de Lyon, The Sydney Biennial, The Gwangju Biennial, Busan Biennale, etc.; Zhang has held solo exhibitions at renowned institutions such as Art Institute of Chicago, Museum of Modern Art New York, and S.M.A.K. in Ghent, Belgium.
His works have been collected by prominent institutions such as MoMA New York, Tate Modern , Guggenheim Museum New York, Guggenheim Museum Abu Dhabi, Centre Georges Pompidou, Art Institute of Chicago, Asia Society New York, Singapore Art Museum, Queensland Art Gallery Australia, M+ Hong Kong, Fukuoka Asian Art Museum, Centre National des Arts Plastiques, Minsheng Art Museum (Shanghai), Daimler Art Collection, DSL Collection, K11 Foundation (Hong Kong) and Sifang Art Museum (Nanjing).
Zhang Peili received the ACC annual artist award and CCAA lifetime achievement award.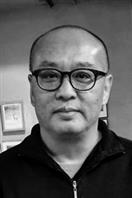 As one of the most important Chinese artists in the world, "Zhang Xiaogang's work complicates the way we see things. He undermines easy hierarchies and points us to things we might overlook. He shows us how to use painting to understand the structure of our thoughts and find revelation in the ordinary things around us".(Jonathon Fineberg)
Zhang Xiaogang was born in 1958 in Yunnan province in China. he growed up in the turbulent years of the 1960s and 70s, and turned to art as an approach to interact with the world.
In 1977, Zhang Xiaogang was admitted to the oil painting department of the Sichuan Fine Arts Institute. During his time there, Zhang found himself more drawn to the library collection on western Modern Art than the classroom instruction, and quickly brought these new thoughts into his own work.
In the idealistic 80s, Zhang Xiaogang actively engaged in the New Wave movement in China. But the meantime, he begun to feel a torment that the reality was out of sync with his spiritual world. In response to this rupture, he created a series of works, which was marked the beginning of his core artistic perspective: turning inwards, presenting the exterior world refracted through the personal.
In 1992, Zhang Xiaogang left China for the first time and stayed in Europe for three months. After visited a large number of museum and gallery, he started to think about his art and tried to explore the possibilities of his art in the national history and the contemporary environment. It was through coming to terms with his identity that the series of paintings that established Zhang Xiaogang's personal style was born.
The collection of pieces known as Bloodline - Big Family was born, which established Zhang Xiaogang's personal style. Inspired on the old family photos see everywhere, these expressionless group portraits depict the both intimate and yet estranged relationships between individuals in China, reflecting the collectivist values and even social power structure of that age, ingeniously through the arrangements of the people on the canvas.
In 1994, Zhang Xiaogang gained greater international recognition when Big Family was exhibited in the 22th Sao Paulo Biennale(won the bronze award) , the 45th Venice Biennale in 1995, and a series of other important national exhibitions. After Big Family Series, Zhang created a series of works such as Amnesia and Memory and In and Out based on many problems under the great changes in China, he was trying to find a creation way to combine the fragmentation inner experience and the external reality from a purer painting.
Over thirty years of sustained construction and a mass of exhibitions, Zhang's work in particular is profoundly important in helping us to perceive the complexity of how we know what we think we know. As he examines the way in which memory transforms perception and history, how those transformations weave the fabric of connections between people, and how our childhood keeps insistently demanding to be reconciled with the present, he helps us all to see the facts of living in the world today with fresh eyes.